技術分析 #C-ROBUSTA : 2020-05-20
積極賣出
賣出
中和
買進
積極買入
| | | |
| --- | --- | --- |
| 指標 | 值 | 信號 |
| RSI | | 中和 |
| MACD | | 買進 |
| MA(200) | | 中和 |
| Fractals | | 中和 |
| Parabolic SAR | | 買進 |
| Bollinger Bands | | 中和 |
圖表分析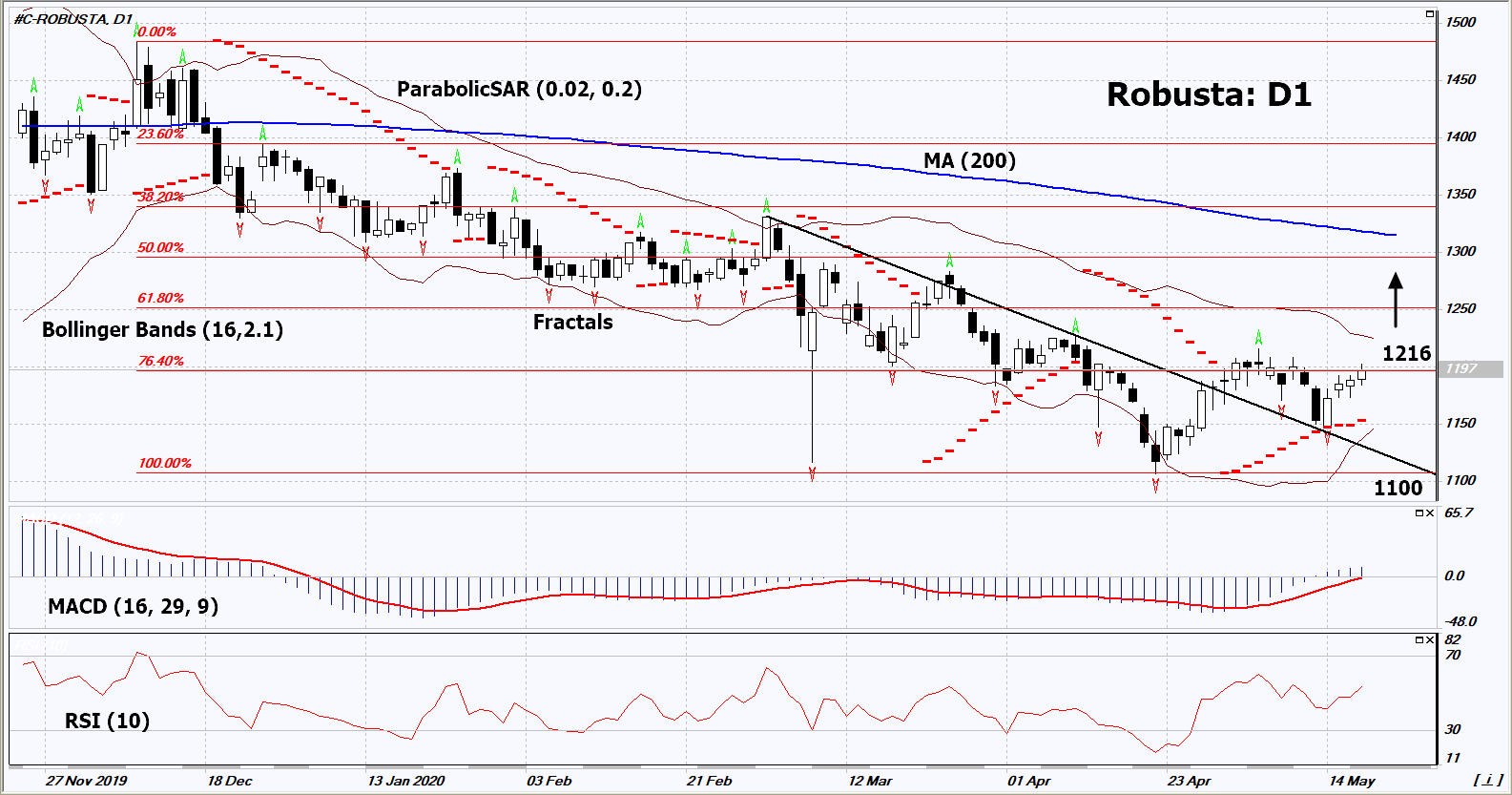 On the daily timeframe, Robusta: D1 breached up the resistance line of the downtrend. It is correcting from the record low. A range of indicators of technical analysis formed signals for a further increase. We do not exclude a bullish movement if Robusta rises above the last upper fractal: 1216. This level can be used as an entry point. A stop loss can be placed below the Parabolic signal, the record low, the bottom Bollinger line and the last 3 lower fractals: 1100. After opening a pending order, the stop loss is moved following the Bollinger and Parabolic signals to the next fractal minimum. Thus, we change the potential profit/loss ratio in our favor. After the transaction, the most risk-averse traders can switch to a four-hour chart and set a stop loss, moving it in the direction of the trend. If the price reaches the stop loss level (1100) without activating the order (1216), it is recommended to delete the order: market sustains internal changes that have not been taken into account.
基本面分析
Drought in Brazil may damage the coffee crop. Will the Robusta quotes continue rising?
Somar Meteorologia agency reported the rainfall in the Brazilian state of Minas Gerais last week was only 57% of its historical average. This state is the main producer of arabica coffee. The emerging strengthening of the Brazilian real against the United States dollar may further contribute to a possible increase in coffee prices. The Vietnamese National Center for Hydro-Meteorological Forecasting reported rainfall in Central Highlands, the country's main region for growing Robusta coffee, has 30% less rainfall than normal. Despite the pandemic of coronavirus, coffee exports from Vietnam in January-April 2020 increased by 4.5%. American marketing company IRI reported arabica coffee sales in the US in April fell by 20%. It can be assumed that amid rising unemployment due to quarantine caused by Covid-19, part of consumer demand "flows" from one sort of coffee to another. 1 ton of arabica now costs $ 2,350, while Robusta - $ 1,190, which is much cheaper. Note also that $ 1100 is the minimum for Robusta since it began being traded in 2009.
附注:本文針對宣傳和教育, 是免費讀物. 文中所包含的資訊來自於公共管道. 不保障資訊的完整性和準確性. 部分文章不會更新. 所有的資訊, 包括觀點, 指數, 圖表等等僅用於介紹, 不能用於財務意見和建議. 所有的文字以及圖表不能作為交易的建議. IFC Markets及員工在任何情況下不會對讀者在閱讀文章中或之後採取的行為負責.